[:IN]Sidang Tesis: "Transparansi dan Akses Pasar Pada Pengadaan Barang/Jasa Secara Elektronik (E-Procurement) di ITB: Kajian Dengan Pendekatan Commom Information Spaces (CIS)"[:en]Master Thesis Defense: "Transparency And Market Access on Electronic Procurement (E-Procurement) ITB : Study With The Common Information Spaces (CIS) Approach"[:]
[:IN]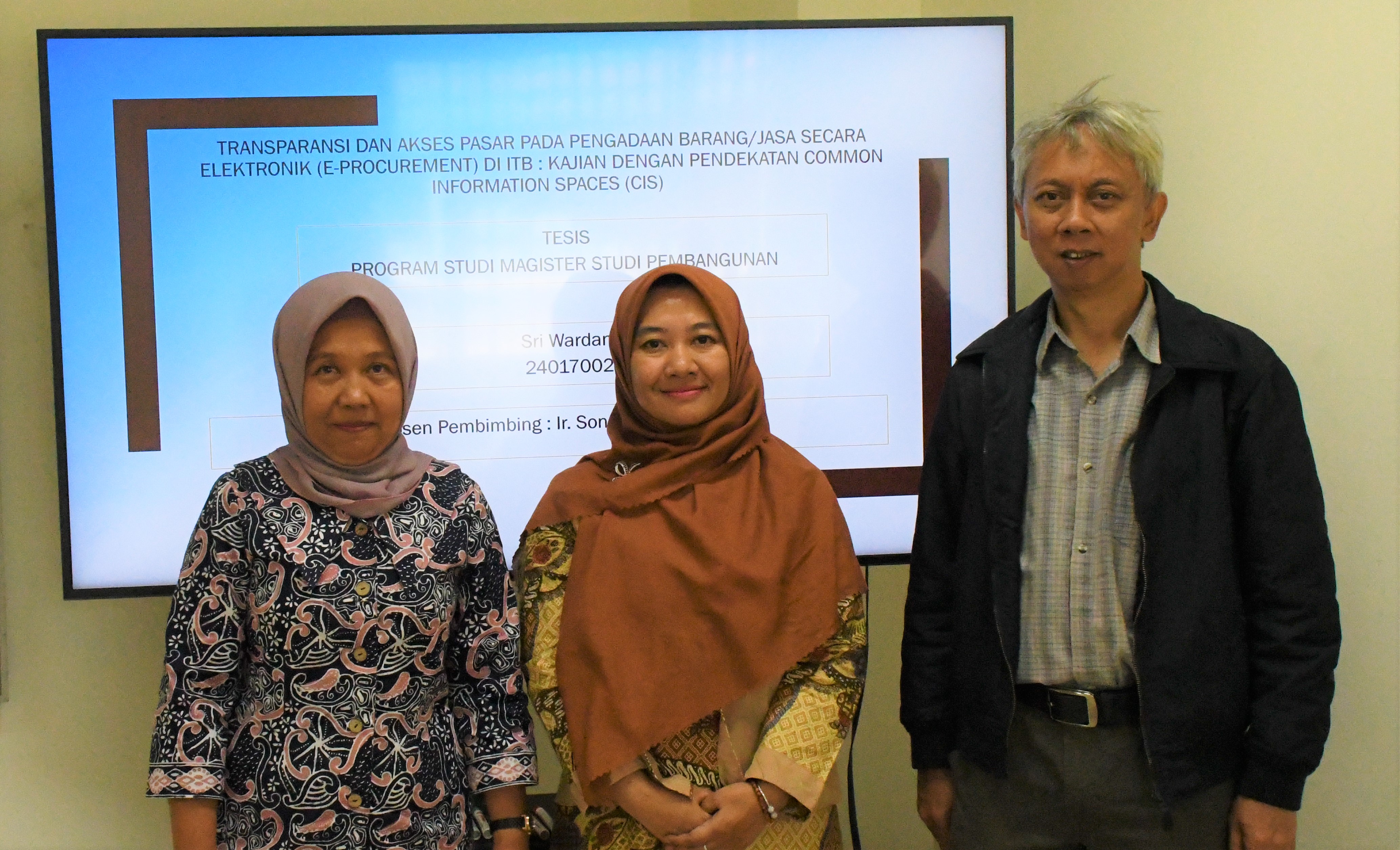 Pada tanggal 15 Agustus 2019 telah dilaksanakan sidang Tesis mahasiswa calon lulusan Program Magister Studi Pembangunan atas nama Sri Wardani NIM. 24017002 yang akan menempuh wisuda pada tanggal 18 Oktober 2019. Adapun judul Tesis yang dipresentasikan oleh Sri Wardani adalah "Transparansi dan Akses Pasar Pada Pengadaan Barang/Jasa Secara Elektronik (E-Procurement) di ITB: Kajian Dengan Pendekatan Commom Information Spaces (CIS)".
Sidang Tesis tersebut dihadiri oleh Bapak Dr. Ir. Sonny Yuliar. sebagai Dosen pembimbing serta ibu Dr. Allis Nurdini, ST., MT. dan Ibu Dr. Ir. Siti Herni Rochana, M.Si. sebagai Dosen penguji.
Sidang Tesis ini merupakan salah satu persyaratan kelulusan untuk memperoleh gelar Magister dari Institut Teknologi Bandung.
[:en]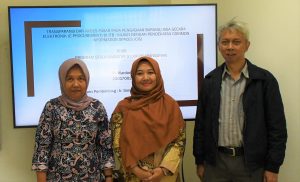 On August 15, 2019, Sri Wardani student registration number 24017002 student of Master Program in Development Studies, presented her Master  Thesis of "Transparency And Market Access on Electronic Procurement (E-Procurement) ITB : Study With The Common Information Spaces (CIS) Approach".
The Thesis Defense was attended by Dr. Ir. Sonny Yuliar as a examiner – Supervisor and also Dr. Allis Nurdini, ST., MT. and Dr. Ir. Siti Herni Rochana, M.Si as Examiners.
Thesis Defense is a partial fulfillment of the requirements for obtaining master degree of Bandung Institute of Technology.
[:]