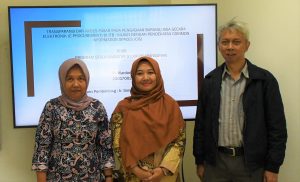 On August 15, 2019, Sri Wardani student registration number 24017002 student of Master Program in Development Studies, presented her Master  Thesis of "Transparency And Market Access on Electronic Procurement (E-Procurement) ITB : Study With The Common Information Spaces (CIS) Approach".
The Thesis Defense was attended by Dr. Ir. Sonny Yuliar as a examiner – Supervisor and also Dr. Allis Nurdini, ST., MT. and Dr. Ir. Siti Herni Rochana, M.Si as Examiners.
Thesis Defense is a partial fulfillment of the requirements for obtaining master degree of Bandung Institute of Technology.