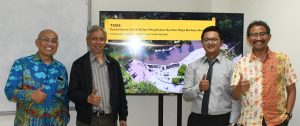 On August 15, 2019, Noorman Wijaksana student registration number 24017009 student of Master Program in Development Studies, presented his Master  Thesis of "Social Learning for Community-Based Resource Management (Case Study: Cikapundung Terrace Management Cikapundung Community)".
The Thesis Defense was attended by Dr. Ir. Tubagus Furqon Sofhani, MA as a examiner – Supervisor and also Dr. Ir. Sonny Yuliar and Dr. Drs. Suhirman, SH., MT. as Examiners.
Thesis Defense is a partial fulfillment of the requirements for obtaining master degree of Bandung Institute of Technology.