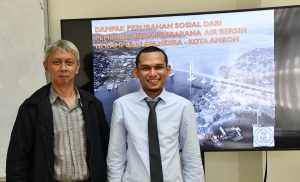 On August 15, 2019, Mohammad Rais Abdullah student registration number 24017002 student of Master Program in Development Studies, presented his Master  Thesis of "Impact of  Social Change with the Development of  Clean Water Infrastructure in Kampung Belemsra, Ambon City".
The Thesis Defense was attended by Dr. Ir. Sonny Yuliar as a examiner – Supervisor and also Dr. Drs. Suhirman, SH., MT. and Dr. Ir. Siti Herni Rochana, M.Si as Examiners.
Thesis Defense is a partial fulfillment of the requirements for obtaining master degree of Bandung Institute of Technology.