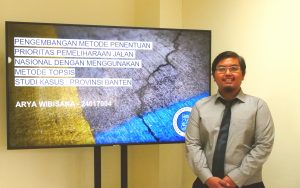 On August 9, 2019, Arya Wibisana student registration number 24017004 student of Master Program in Development Studies, presented his Master  Thesis of "Method Development For Determination Of National Roads Maintenance Priority Using Technique For Order Of Preference By Similarity To Ideal Solution (Case Study : Province Of Banten)"
The Thesis Defense was attended by Dr.Eng. Puspita Dirgahayani, ST. M.Eng, MT a examiner – Supervisor and also Dr. Ir. Sonny Yuliar and Dr. Adenantera Dwicaksono, ST., M.Dev as Examiners.
Thesis Defense is a partial fulfillment of the requirements for obtaining master degree of Bandung Institute of Technology.