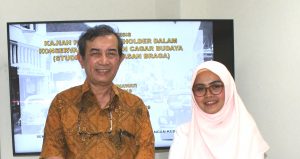 On August 09, 2019, Putri Mardianawati student registration number 24017018 student of Master Program in Development Studies, presented her Master  Thesis of "Study of Stakeholder's Role in Heritage Building Conservation (Case Study Braga Area)".
The Thesis Defense was attended by Dr. Ir. Indra Budiman Syamwil, M.Sc as a examiner – Supervisor and also Dr. Ir. Sonny Yuliar and Dr. Agus Suharjono Ekomadyo, ST., MT as Examiners.
Thesis Defense is a partial fulfillment of the requirements for obtaining master degree of Bandung Institute of Technology.