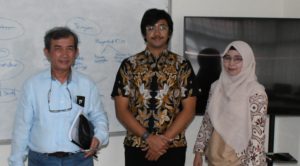 On August 12, 2019, I Putu Reynaldy Aryawijaya student registration number 24017011 student of Master Program in Development Studies, presented his Master  Thesis of "Transient Phenomenon on Migrant Worker's Dwelling Behavior in Unplanned Urban Settlements".
The Thesis Defense was attended by Dr. Ir. Indra Budiman Syamwil, M.Sc. as a examiner-Supervisor and also Dr. Ir. Sonny Yuliar and Dr. Allis Nurdini, ST., MT. as Examiners.
Thesis Defense is a partial fulfillment of the requirements for obtaining master degree of Bandung Institute of Technology.